October 2008
An exciting new arrival to the stud - we have bought a welsh section B colt foal to show in hand and run on as a future stallion. We cant wait to get our special little man out showing!
Introducing Mirimars BucksFizz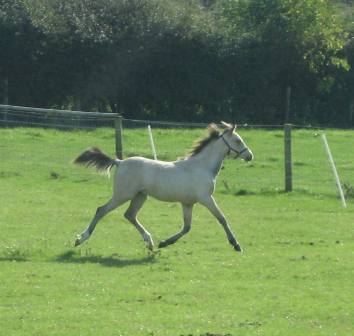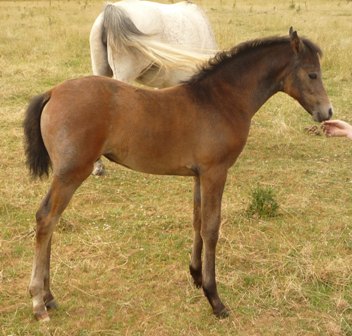 September 2008
September 28th - SEAHG show
Pasha was 2nd in the part bred youngstock class, Pasha + Pip 3rd in the family progeny class (only part breds in it) and Frankie 4th in the pure bred 3 year old class.
August 2008
August 25th - Edenbridge+Oxted show (photos on gallery page)
What a good day! Frankie was again 3rd in the pure bred arab youngstock class. Spider was a star and won the part bred arab in hand (4+) class and then stood reserve part bred champion!! We all thoroughly enjoyed ourselves!
22nd August we moved to the new yard. All horses have settled in well. We still have lots to finish but by next breeding season we will have 3 large purpose built foaling boxes (17'x15') as well as the 'normal' stables, mare+foal/visiting mare paddocks plus stocks for veterinary work. Roll on next year!!
21st August, at last finished with the covering/scanning! Last mare scanned in foal today so a positive end to the season, all resident and visiting mares scanned in foal.
July 2008
+++ MORE HOT NEWS+++
Simply Precious, 4 year old part bred arab mare by Royal Command of Wentward won her part bred arab class at the Arab Nationals and then was British National Champion female part bred arab. Many congratulations to her owner Gemma, and her breeder Ann Whitehouse and of course to Spider for having sired such a lovely mare!!!!
+++ HOT NEWS +++
Murraybrook Stud will be on the move in August. I have been given the wonderful opportunity to move to a new yard which is being purpose built for me. It will be very sad to say goodbye to my liveries, many of whom have been with me a long time and are wonderful friends, but it is just too good a chance not to take. It will give me the opportunity to have more time to concentrate on breeding and showing, along with better stud facilities including covering area, large foaling boxes with viewing facilities and stocks for veterinary work.
From August 2008 we will now be at Barville Farm, Waldershare on the A256 between Sandwich and Dover.
11.7.08 Kent County Show. (photos on gallery page)
Royal Command of Wentward made his return to the show ring after an abcense of a few years. He behaved perfectly around all the other horses, including mares in season but was a little excited in the ring and decided to show us his beautiful canter instead of trot. Placed 6th, totally justified given the lack of trot in hand.
Murraybrook Passionata made her show ring debut and was very much thrown in at the deep end. She was a little overawed by it all but was 6th in both classes (part bred arab 2+3 year old and hack breeding)
Quisaz Tengar, Frankie was my superstar of the day getting 3rd in the 2+3 year pure bred arab in hand, in some very good company.
Murraybrook Pipestrelle (owned by Mrs C Walker) also made her show ring debut and was placed a very creditable 5th in the part bred arab and hack yearling classes.
All horses received very favourable comments from all judges and hopefully have an exciting and successful showing career ahead of them.
June 2008
Most of the mares have now been scanned in foal to Spider. Rani is due approx 19th April 2009, Anna is due approx 28th April 2009, Petra is due approx 4th May 2009, Kez due approx 16th May 2009 and Iris approx 21st May 2009.
May 2008
Spider has been busy covering mares (Rani, Anna, Iris and Petra!) scans will be done in due course to confirm pregnancies.
19.5.08 Petra has done me proud and produced me a lovely filly foal, all went well and both ok. Baby Tia was up and selling hello to me straight away and has been the friendliest foal ever since! Photos on foal page.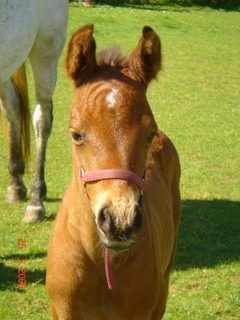 April 2008
Lykia checked by the vet as I didnt think she was in foal, sadly I was right so she must have slipped it sometime after being scanned last year. As Lykia was on loan she will be returning to her owner this year.
Jade scanned in foal to Spider (Royal Command of Wentward) for an early foal next year - due 23rd Feb.