October 2011:
Murraybrook Tobermory (yearling colt) went to his first show! A local but quality show, he won his youngstock class and went on to be the eventual in hand champion. While he was excited to be doing something he behaved well and showed off his good paces! We are delighted he is following in the footsteps of his siblings and being a much admired show winner.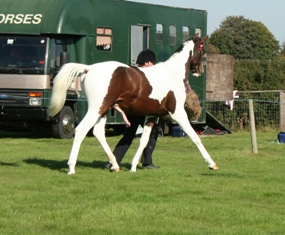 September 2011:
Murraybrook Moriarty (2 year old colt) and Murraybrook Marquesa (2 year old filly) both went to the Cherif Champs. It was Moriarty's first show away from the farm since September 2010 and he took it all in his stride, behaving perfectly at the show ground. Moriarty was 3rd in the 2 year old not to exceed 148cms class and Portia was 4th, both receiving excellent comments from the judge.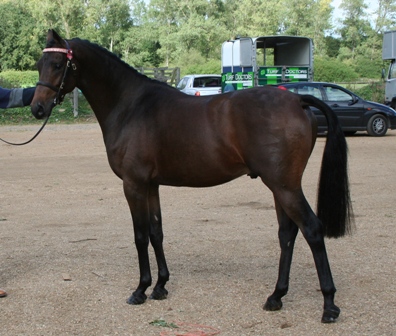 July 2011:
Murraybrook Anise (Lacey) joins her new owners in Devon.
June 2011:
More of last years visiting mares foal, bringing the count to a 50/50 split between colts + fillies - and of course - all bays!!
May 2011:
22.5.2011 Grace foals a bay filly by Spider, very cheeky and dainty! Photos on foal page, she may be for sale.
April 2011:
The 1st of this year's foals at Murraybrook Stud was born on 20.4.2011 - colt foal out of the thoroughbred mare River Till (Ruby) by Royal Command of Wentward.
'Ripley' is a delightful foal full of friendly character, very well put together with the makings of a future star. We are delighted with him.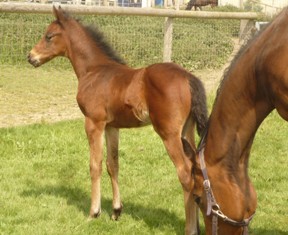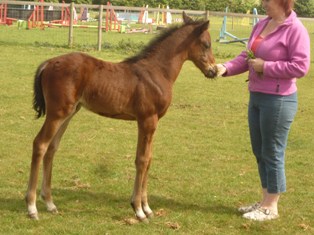 The first 3 visiting mares from 2010 have foaled - all having bay fillies.
March 2011:
the breeding season begins! The first visiting stallion is booked in for dummy mare/collection training.
Murraybrook Anise (with her owner Caroline) goes to her first show, behaving beautifully and getting good placings in large classes.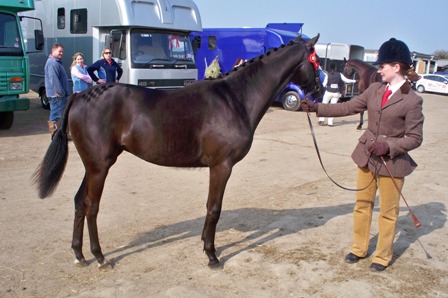 February 2011:
The stud facilities are now being finished, with the completion of the lab + dummy mare.